Identification of Drought Injury in Turfgrass Using Remote Sensing
Researcher: Kyle Cheung
Collaborators: German Zuniga-Ramirez, Ali Moghimi, Maggie Reiter, Amir Haghverdi
Updated on September

3, 2019
NDVI is often used to quantitatively assess the severity of plant injury caused by a variety of stressors. In this study, NDVI indicates drought injury in the turfgrass plots as quantified by lower NDVI values in the least irrigated treatments. This result shows that NDVI can be used as an aid in identifying drought stress, but because NDVI is understood to be a measure of greenness, the index lacks specificity with the detection of drought injury in turfgrass. It is possible that the use of multispectral or hyperspectral data could shed light on a more specific index or modeling method that is more effective than NDVI. 
Using novel machine learning techniques to analyze the aerial multispectral images, decision-tree based models were created to classify, at the pixel level, turfgrass plots into their known irrigation treatment.  

Two types of models, one using NDVI as its sole input, another using the five spectral bands from the multispectral camera, were examined for their classification accuracy. Additionally, the model provides a feature selection method, ranking the five spectral features based on their gain or importance to the performance of the model. 
The classification approach used pixels only from the lowest and highest levels of irrigation treatments. It is expected that the lowest and highest irrigation treatments effected drought injury with very distinct results. 
Looking at the classification result on the testing split (30% of dataset not used in model training), there is a higher F1-weighted mean score for the tall fescue plots when using the five multispectral bands, indicating that drought injury can be detected earlier with better accuracy.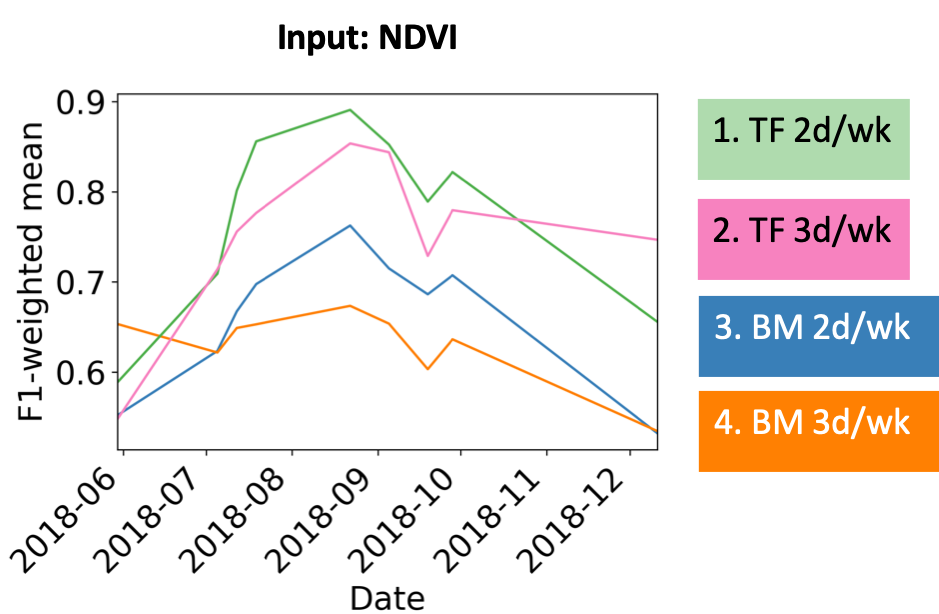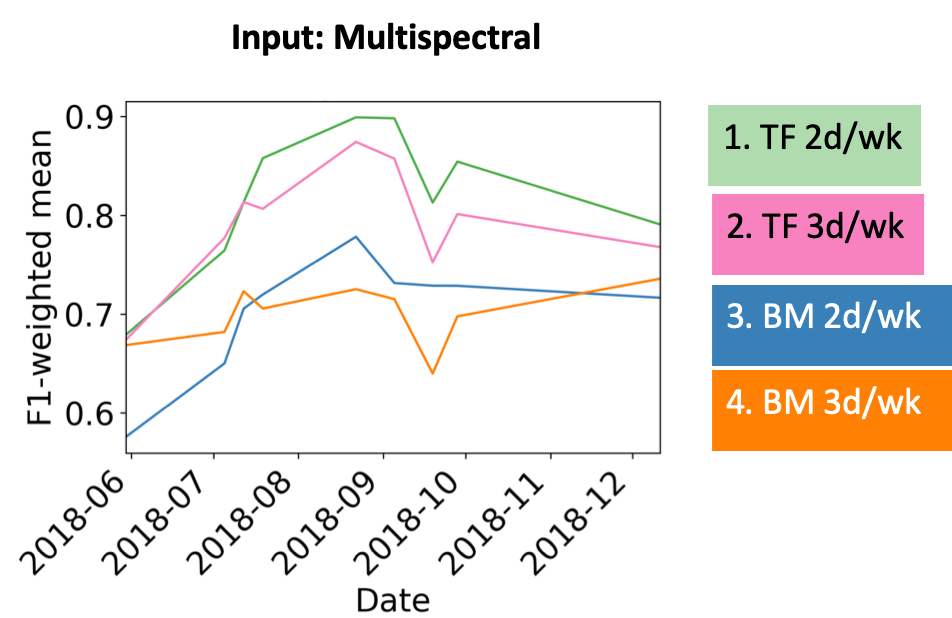 These figures show that plots irrigated at 3 days per week had a lower classification ability for drought injury than those irrigated at 2 days per week. It may be more difficult to detect injury if turfgrass is irrigated with smaller amounts more frequently.
At the peak of classification ability in late August and early September, the score for NDVI and multispectral models are similar. The feature importance scores provide insight into why this was the case.
Near-infrared (NIR) and Red are the most important bands at peak classification ability, but on other dates the other 3 spectral bands, red edge (RE), green, and blue, have higher importance scores. This may indicate that the addition of the three spectral bands offers earlier detection of drought injury compared to solely using NDVI.
Update to conclusions:
4. Irrigating with smaller amounts of water more frequently may reduce drought injury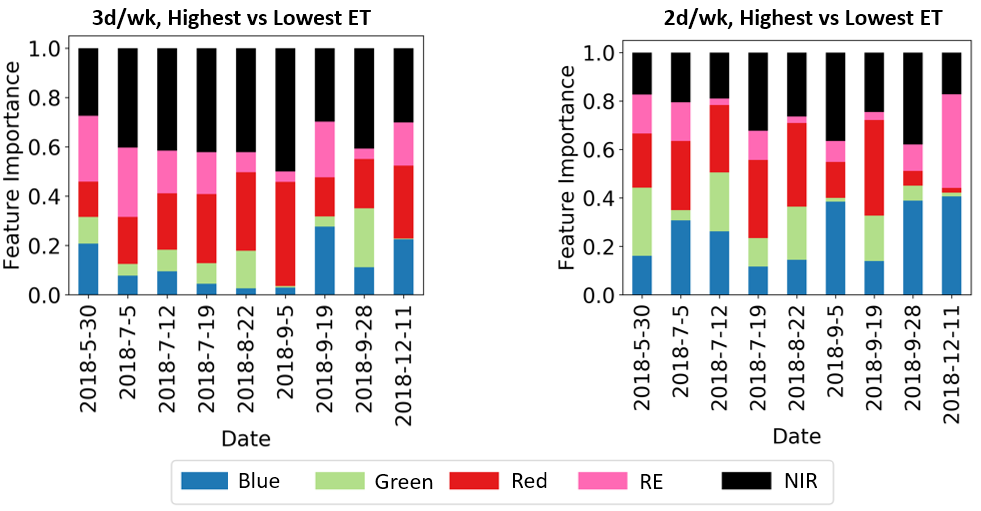 Updated on

March 12, 2019
The current abnormal dryness in California is negatively influencing not only the 93% of Californians, but also the vegetation in drought-affected areas throughout the state. Drought plays a major role in limiting healthy growth of turfgrass. In order to maintain the turf quality, a credible sensing system is required to monitor the drought injury in turf and alarm for the water stress when it happens. In this study, we are developing a remote sensing approach to monitor turfgrass under several levels of water stress in the San Joaquin Valley of California. This study evaluated water stress effect on two turf species: hybrid bermudagrass (Cynodon dactylon × C. transvaalensis) and tall fescue (Lolium arundinaceum).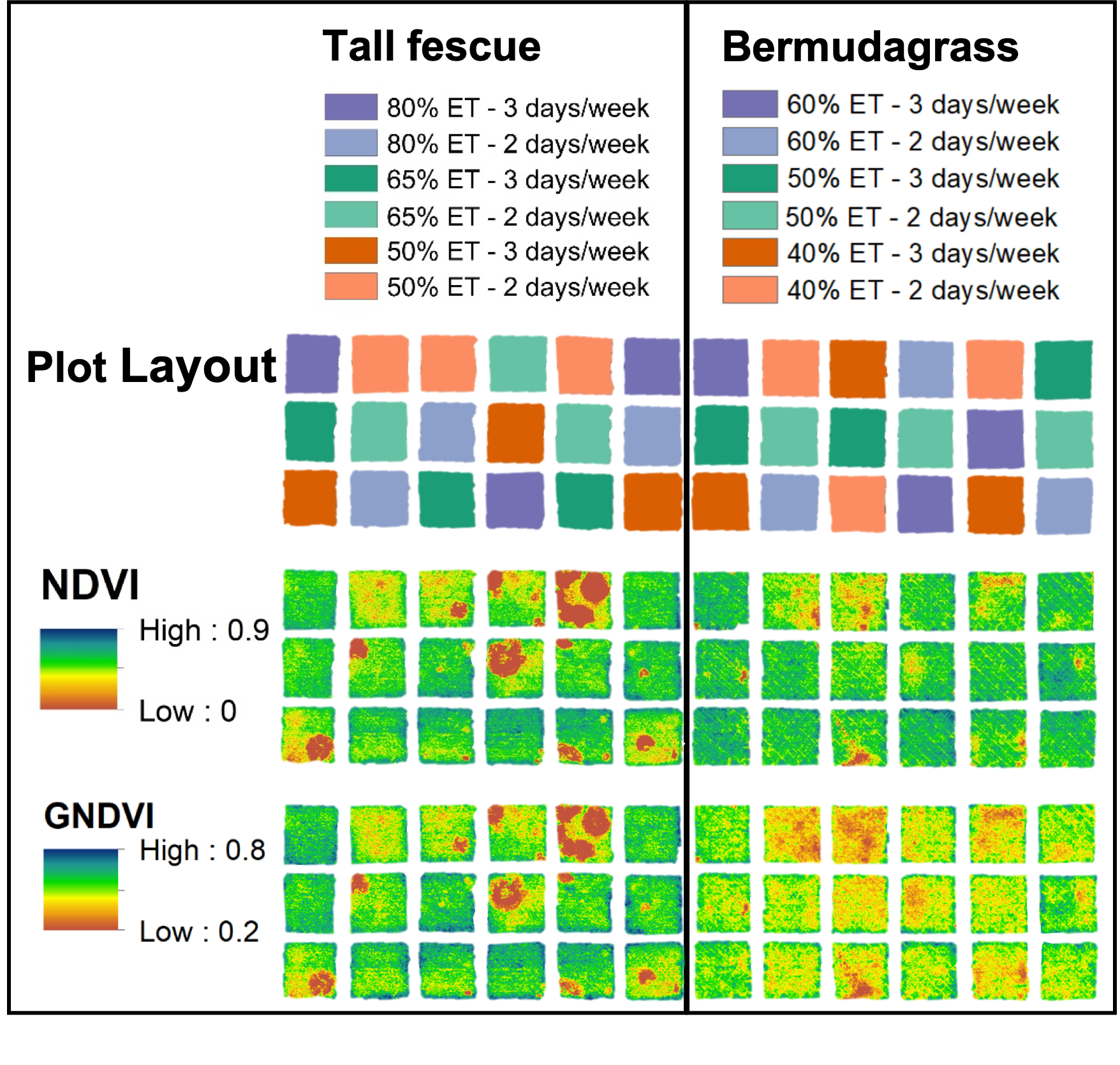 Field plots were established at Kearney Research and Extension Center in Parlier, CA. Tall fescue was irrigated at 80, 65, or 50% reference evapotranspiration (ET) on 2 or 3 days/week. Bermudagrass was irrigated at 60, 50, or 40% reference ET on 2 or 3 days/week. Using an unmanned aerial system, multispectral images of the plots were acquired periodically from May to September 2018.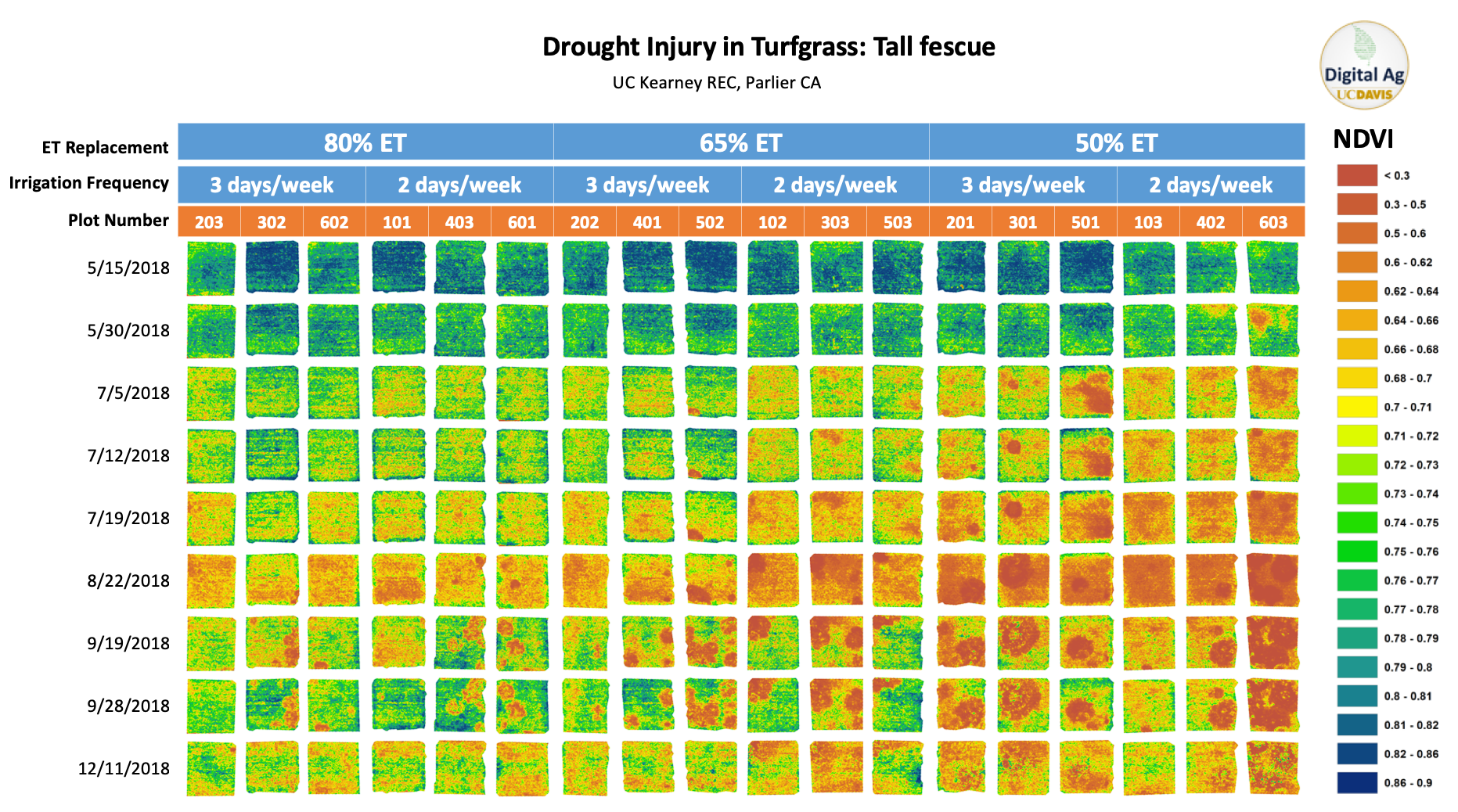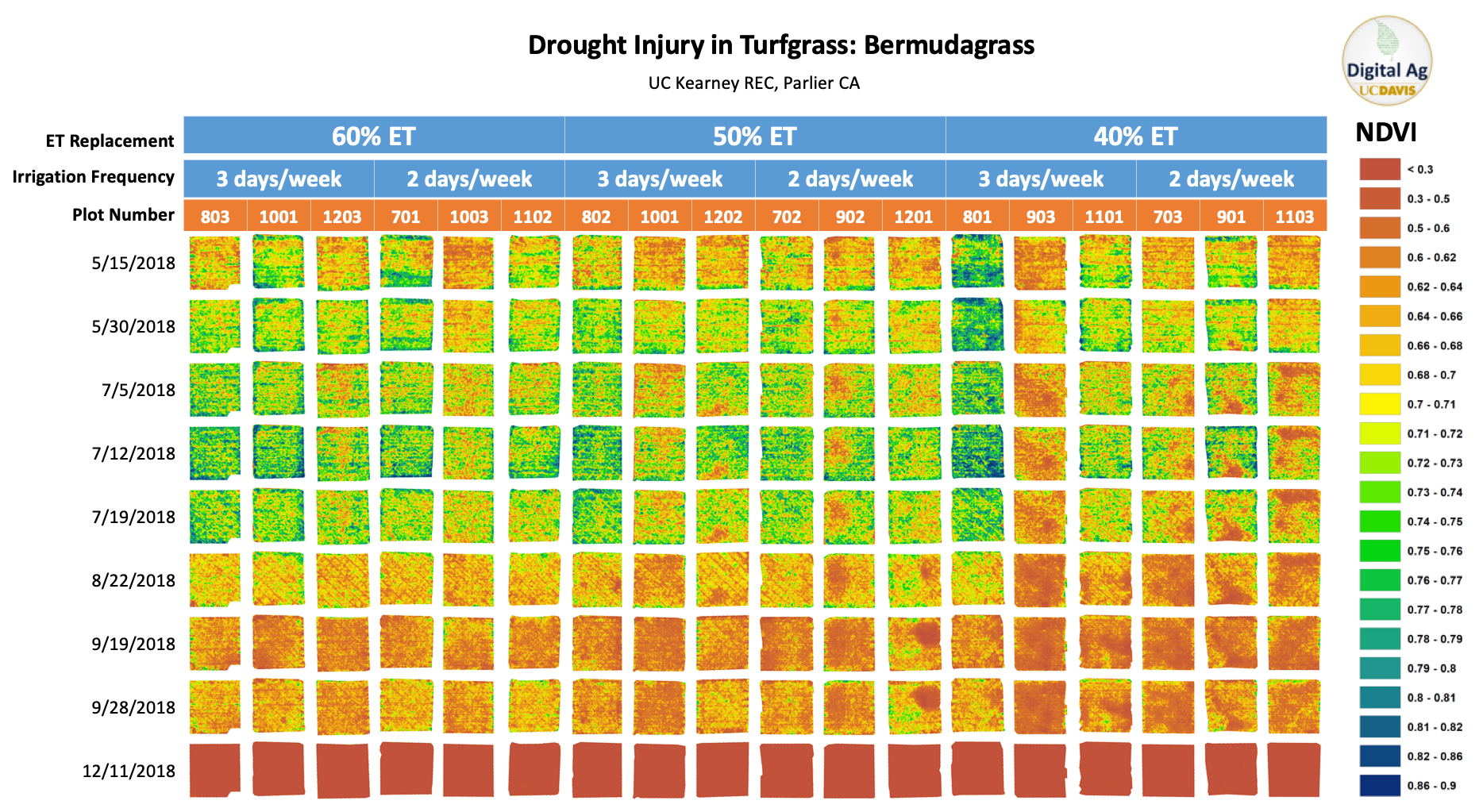 Additionally, hyperspectral measurements of plots were acquired in the range of 200-1650 nm on a similar temporal manner using KOBIN, a field sensor developed at the Digital Agriculture Laboratory at the University of California, Davis. Customized vegetation indices sensitive to drought injury in turf were generated for both multispectral and hyperspectral data. The results indicated the accuracy of drought injury identification using either multispectral and hyperspectral sensing methods.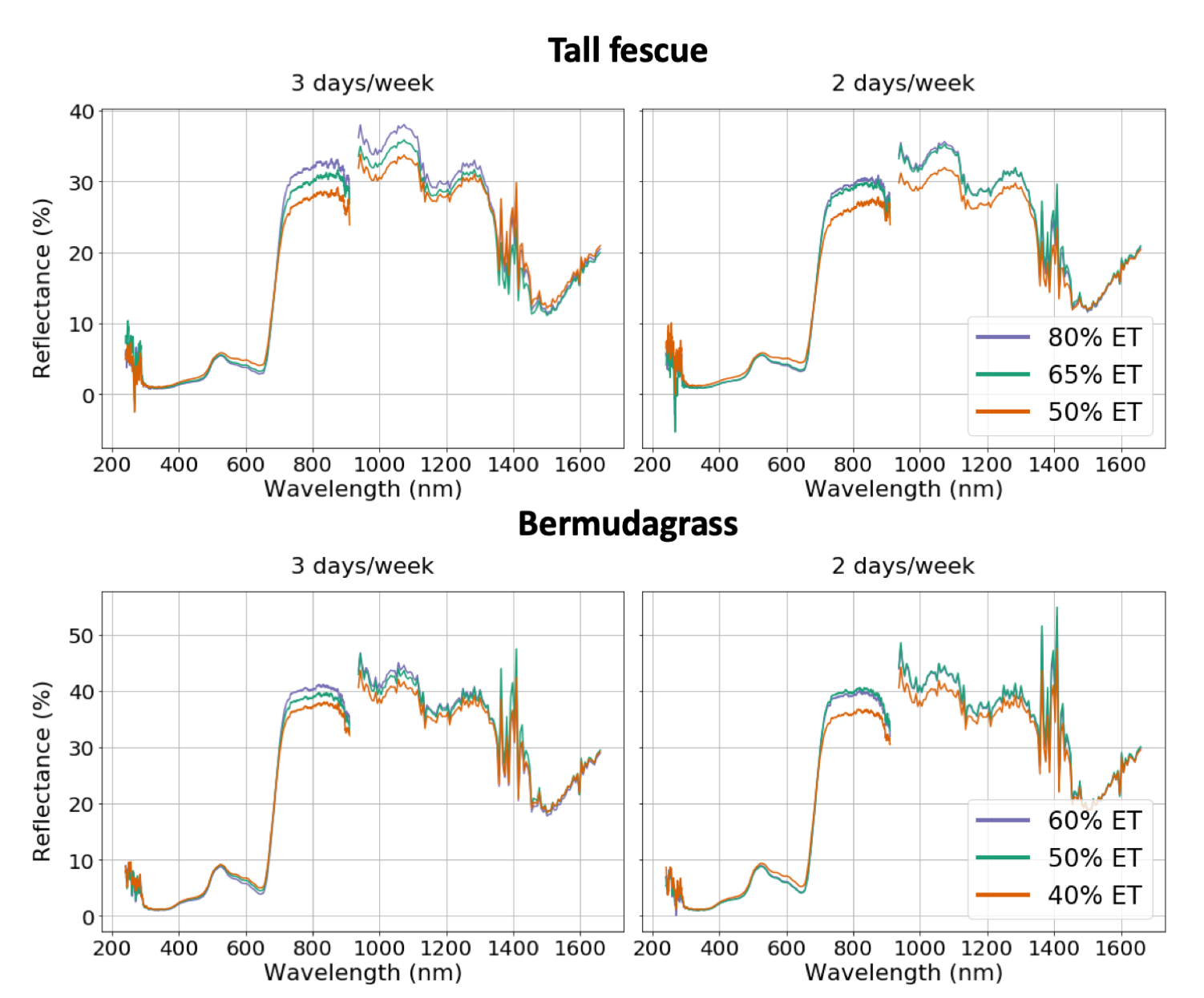 Conclusions:
1.  N
DVI extracted from multispectral camera (drone imagery) is clearly sensitive to sever deficit irrigation treatments
2. 
NDVI for tall fescue species shows more sensitivity to drought injury compared to bermudagrass
3. Turf under three levels of deficit irrigation generates distinctive spectral signatures 
Primary Category
Tags